KISS FM is proud to support the needs of local pets – especially those seeking a new home. That's why 98.9 Kiss FM have teamed up with Oklahoma Humane Society and Hudiburg Subaru Luv2Live Campaign to bring you closer to your new best friend. Each week KISS FM will feature different adoptable pets available through The Oklahoma Humane Society and we strongly encourage all potential pet owners to participate.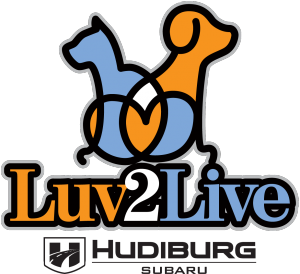 Peach: 2 year old, female dog
Meet Peach!
Peach is a complete cuddle monster! She will cuddle with you all the time and loves to get her belly rubbed. She does have a fair amount of energy and loves running around with her other dog friends in a fenced in yard. Peach is the sweetest girl and loves humans of all ages and other dogs, but has not encountered any cats. Peach is house trained, knows her name and "sit", but is so excited to learn more tricks with her forever family! Peach is working on crate training and being alone while her foster is momentarily gone, but once she realizes she is coming back to let her out, she is okay! She is generally a great walking companion and loves going for walks to see all the new friends she can make. Peach can get a little too eager when she sees other things and just really wants to go up to them to say hi, so she needs a family that is willing to work with her and allow them to walk her instead of the other way around. She is working on her weaknesses, but when it comes down to it, all she wants is to cuddle up next to you and get pets and belly rub and that is all well worth it at the end of the day! Come meet this sweet Peach!
s
Jenkins: 2 month old male cat
My name is Jenkins, and I am a really fun boy! I'm super silly, love playing with toys, and I keep my foster mom laughing with all of my funny antics. I've always had these big, beautiful grey eyes since I was a tiny baby, and my foster mom says that are super unique. Sometimes I look a little bit like the famous Grumpy Cat because of them! I'm an adventurous and playful kitten who is looking for a family to share in life's adventures with me.
Join OK Humane for a Night at the Drive-In! Enjoy a fun night out benefiting the Oklahoma Humane Society and watch a screening of the cult-clasic movie "Homeward Bound". September 10th, gates open at 6:30 and the movie starts at sundown, visit //okhumane.org/drivein for ticket information.
Information about the The Oklahoma Humane Society
The Oklahoma Humane Society was founded in 2007. We work in close partnership with the Oklahoma City Animal Welfare Division (OKC Animal Shelter) and our primary focus is to eliminate the needless euthanasia of healthy, adoptable animals in Oklahoma City.
Since our beginning in 2007, we have found homes for over 30,000 cats and dogs and spayed and neutered over 135,000 pets. Visit www.okhumane.org to learn more.
Mission statement:
The Oklahoma Humane Society exists to enrich the communities it serves by promoting the well-being of animals.
Vision statement:
The Oklahoma Humane Society will make the compassionate and respectful treatment of animals a prevalent community value and the well-being of animals a community priority.
Core values:
We respect animal life and promote the good health of animals.
We believe euthanizing healthy, adoptable animals is not acceptable.
We believe education is the key to the humane treatment of animals.
We believe that the human-animal bond enriches the entire community.
We support a better understanding of animals and animal welfare.
OK Humane is a 501(c)3 organization that is funded solely by donations, grants, and bequests. It receives no government funding or tax dollars.